TELL ME ABOUT THE SHOW:
(For the Audience member)
PRN's unique blend of show theater improv revolves around the premise that improvisation, while difficult, is accessible to everyone and is actually enhanced by the ultimate in random input: YOU!

Most comedy shows focus on standup comics, or if improv, at best reiterations of practice games (short form) or 'instant plays' (long form) for which the audience contributes some starting items but primarily remains on the sidelines to watch the presenters.
Funny, yes. Ultimate improv?
No, not yet..it's still missing..YOU.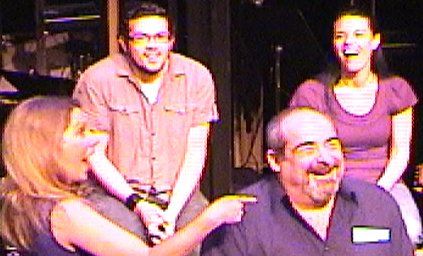 ImproVACATIONS! is a unique show developed to truly engage everyone in the audience. Randomly selected high energy mini-scenes, fully audience-directed inputs for writing, direction selections, and ultimately audience acting with our stellar performers ON STAGE creates a never-duplicated experience with participants wanting to return over and over again (and again - seriously, we have to close sometimes, go get some rest).



The show is typically performed in two (2) 40-45 minute sets with a short intermission. When attending, plan to be ready with your wittiest suggestions and positive attitude to share not only with our experienced improv hosts but with the entire audience in general. Don't worry, we only get volunteers so no 'pick on you' worries like other comedy shows. Well...no, okay, we won't. Seriously.

Bottom line: Would YOU like to have control of your evening's entertainment, where YOU write, YOU direct, and ultimately YOU STAR with friends/family enjoying the ride? Or would you just like to sit back and watch the funny people entertain you?
(Hint: YOU can do both at ImproVACATIONS!).

HIDDEN GEMS!
Click here to listen to a past PRN gem of the valley!
Or click here instead for a totally different PRN experience!